Jennifer Aniston is very much in the limelight
after stripping down naked for GQ Magazine
. She was snapped in New York City before her "Late Show" interview with David Letterman.

Dressed in a black trench coat and matching slacks, the beautiful 'Marley & Me' star waved to photographers outside the Ed Sullivan Theater.



Anyway, here's a short transcript of the exchange:

JENNIFER: This is an early Christmas present.
DAVE: Oh, my. Get a close-up on this, will ya? That is the tie.
JENNIFER: Well, put it on. *claps*
DAVE: I would, but it seems to be giving off an overpowering scent of vinegar and water.
JENNIFER: What? The last person who had it - JOHN!
JENNIFER: Yes, master.
DAVE: Yes, master.






Jennifer's "Late Show" interview will air Wednesday night on CBS, and her new comedy 'Marley & Me' hits theaters December 25.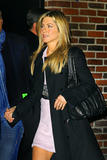 Photos [The Superficial]
Source [The Insider]