Amy Winehouse was taken to hospital London by ambulance from her North London home last night after she was reported to have suffered convulsions and fits.
According to
Daily Mail
, The troubled singer was seen being wheeled out of her north London home just after 8.40pm this evening by paramedics, as her beleaguered father Mitch Winehouse watched on.
Paramedics were called by father Mitch after Amy reportedly suffered an episode of 'fitting'.

Her father blamed the scare on a mistake with her prescription pills, saying: 'She's fine, she just mixed up her medication.'
She was then taken to the accident and emergency department of UCH [University College Hospital] where she has been admitted, confirmed her spokesperson.
A squad of police arrived as Amy was shielded her singer friend Remi Nicole and her father, as well as the paramedics who were in attendance, with only her bare feet exposed, as she sat slumped in the wheelchair.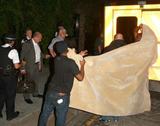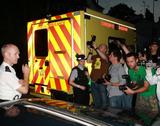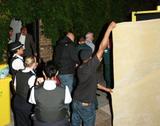 Thanks for photos [
Source
]