Victoria Beckham, looks as though she's about to be consumed by her busy, heart-patterned Marc Jacobs frock at last night's
CFDA Fashion Awards in New York City.
Victoria was on hand to co-present the award for Womenswear Designer of the Year to Calvin Klein designer Francisco Costa, alongside Eva Mendes and Maggie Gyllenhaal.
Marc insists that Victoria 'has an amazing sense of humor about herself,' and admired her for 'agree(ing) to do something rough and tough and quite raw.'
Rough and tough and quite raw!!?? is this the description of her feet in those ugly shoes?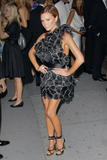 Photos[Splash News]