"Ugly Betty" has a new recurring player in "Mean Girls" star Lindsay Lohan, who will appear in the series' currently shooting May 22 season finale and in five more episodes airing next season.
The actress has done plenty of TV in the past, including 2004 guest shots on "That '70s Show" and "King of The Hill." A 6-year-old Lohan began her screen career playing a trick-or-treater on David Letterman's NBC show in 1992.
Lohan will play an old adversary fallen on hard times.
"Betty" (which has already garnered more Emmys than "The Wire") has itself fallen on hard times, its ratings down 35% from this time last year. Its last new episode fell to third place on Thursday, scoring a 2.4 against "My Name is Earl's" 2.8, "Scrubs'" 2.9 and slot-dominating "Survivor's" 4.0.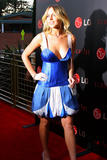 Thanks for the photos [
Source
]