Hayden Panettiere's father, Alan, has been formally charged with misdemeanor battery after he punched his wife in the face during an argument last month. Though Hayden tried to downplay the incident saying her family is "wonderful, happy, and great," dude, her dad definitely punched her mom in the face!

People reports : Panettiere, 49, faces arraignment on Oct. 11. If convicted, he faces up to a year in county jail. Alan Panettiere was arrested Aug. 11 at the family's West Hollywood home after he "struck his wife (Lesley Vogel) one or two times on the cheek causing bruising with a closed fist," a sheriff's spokesman said.

The couple had returned from a charity event hosted by their daughter. Another sheriff's official confirmed that alcohol was involved.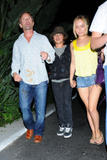 Source [
Celebslam
]