The pop star made a triumphant return to MTV's Video Music Awards, winning three Moonman for Best Female Video, Best Pop Video, and Video of the Year for "Piece of Me."

Britney did the wisest thing possible and just opened the 25th MTV VMAs with a semi-lame pre-recorded skit with Jonas Hill. She didn't perform as was widely anticipated, and the camera just followed her as she walked from her dressing room onto the stage and announced the opening of the awards, the microphone close to her face and her voice breaking at points.

"I'm in shock," the grateful singer said after accepting her third award of the night from NBA star Kobe Bryant.

Spears kept all three of her acceptance speeches short.
"This is such an honor to have this award right now," she said. "I want to thank my fans, this is dedicated to you…"
What do you guys think? Does Britney deserve so much credit?
OTHER CELEBRITIES AT VMA's
Also shown on the red carpet are Ashlee Simpson, Paris Hilton, Lindsay Lohan, Jonas Hill,Christina Aguilera, Ciara, Miley Cyrus and Katie Perry, Chace Crawford, Zac Efron, Fallout Boy, The Jonas Brothers, Chris Brown, Pink, Kid Rock, T.I. and Tiny, Tokio Hotel, Rihanna, Audrina Patridge, Heidi Montag and Spencer Pratt, Lauren Conrad, Ne-Yo and Cee-Lo.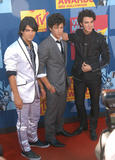 Source [
Celebitchy
]